Energy & Insulation Services in Acadiana
Energy savings solutions for homes, businesses & new construction in Acadiana.
Energy & Insulation Services in Acadiana
Energy savings solutions for homes, businesses & new construction in Acadiana.
Spray Foam Insulation | Fiberglass Insulation | Soundproofing | Roof Coating | Wall Injection | Air Sealing
BREMS provides energy efficiency to homeowners and business owners across Acadiana. We're the Energy Efficiency Experts!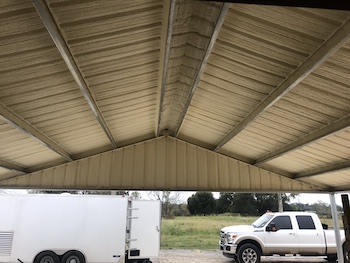 Our team aims to help you minimize energy loss and make the most of your home or business investment. We specialize in air sealing, spray foam, wall injection, and more. Keeping your home or business insulated can be one of the most cost-effective solutions for keeping utility bills low and increasing comfort and value.
The BREMS experts are ready to help you find the best options for your current building or future project. Our solutions are what makes us the #1 choice in Acadiana!
Affordable & budget-friendly
Energy-efficient
Reduced noise
Cleaner air
Increased indoor comfort

Spray Foam
A home will lose 35% of its energy through cracks in the wall, which means quality insulation is crucial for energy-savings. The installation of spray foam works to create an air seal, an ultimate, extremely effective way to increase your home's energy-efficiency. Spray foam insulation allows you to stay comfortable year-round while also aiding in the performance of your HVAC system. Spray foam is often recommended for upper levels of a home or business, due to it serving as a barrier that opposes external climate conditions.
Living in Louisiana, we are prone to severe weather conditions, like hurricanes, that can cause extreme damage to our homes. Spray foam is a water-resistant solution, which helps combat your home against those damaging natural disasters. This type of insulation won't deteriorate over time and keeps your home or business completely protected against moisture. This barrier against moisture means no mold, mildew, or water damage! Spray foam also acts as an air sealant to expand and fill any cracks to prevent cold or hot air from entering.
At BREMS, we aim to make the most of your investment and help reduce energy loss. You'll notice an immediate increase in comfort and decrease in energy cost when you work with our professional team!

Fiberglass
Fiberglass insulation is an environmentally-friendly product that also has a cost-effective benefit. However, if not properly insulated, your home or business can lose the heat or air that it is using to stay regulated at a comfortable level. This means your HVAC system is working overtime and your bill will steadily climb. Only trust high-quality, highly-rated, dependable professionals like BREMS when it comes to your insulating needs.
A large amount of energy is often lost through the walls, which is why wall insulation is a key factor in reducing your energy bill. The BREMS team works towards finding a solution that helps you minimize energy loss and maximize comfort!
Soundproofing
Soundproofing a room helps keep unwanted sounds out of other areas in a home or building. This is often added to the walls surrounding a laundry room, garage, or any other space that exerts loud noises. The goal of BREMS is to improve your comfort at a cost that's affordable for you!
This comfort also applies to the ability to enjoy the silence surrounding a soundproof room. Proper insulation and soundproofing will guarantee your ability to relax at home or focus at your business. BREMS has all the necessary experience and knowledge to help you soundproof your home, business, or new construction!
Roof Coating
Extend the life of your roof when you invest in roof coating for your building. Roof coating alone can help dramatically lower the temperature within a home or building, which reduces the energy required for your HVAC system to run. Making sure air doesn't escape through your roof, or that moisture doesn't get inside, can ultimately drive down your energy bill. The application of a roof coating will also work to protect the exterior from extreme weather conditions along with preventing rust from setting.
Protecting your roof now will extend the life of your roof, which means you'll avoid having to replace it sooner. Keep your building cooler and reduce your energy consumption by scheduling a roof coating consultation with our team!
No job is too big or too small for BREMS Energy Solutions. Our unique approach creates measurable results for your home's or business's energy efficiency and indoor comfort.
Wall Injection
Think of injections as a technique to insulate walls where standard insulation can't go! Wall Injection is the ideal solution for older homes or buildings that need to avoid damaging any walls.
Like the rest of our insulation services, wall injection is clean, safe, and an affordable option for homeowners. Wall injection is a great choice to improve your indoor air quality without sacrificing your budget or damaging existing walls.
Air Sealing
Even the smallest flaws in insulation can lead to an increase in the energy required to keep a space comfortable. Reducing the in and out air movement works toward making your home more energy-efficient. Reducing the amount of air that leaks in and out of your home is a cost-effective way to cut heating and cooling costs, improve durability, increase comfort, and create a healthier indoor environment. The team at BREMS will identify where your home or building is losing air, assess your budget and needs, and provide a cost-effective solution for you. Although air sealing doesn't replace the need for proper insulation by a professional, it's the best solution for those small air leaks that slowly increase your energy bill over time.
Our team prioritizes energy efficiency, staying within your budget, and providing customer satisfaction. BREMS sets itself apart from the competition by including the customer in the entire process to ensure a successful, satisfactory outcome.
Did you know that BREMS also provides air conditioning and heating services to homeowners and business owners across Acadiana? BREMS A/C & Heating specializes in repair, replacement, maintenance, and more!
Businesses and homeowners in Acadiana count on BREMS to keep their cooling and heating systems running at max efficiency. Whether you need a repair or your unit may need to be replaced, BREMS is the #1 choice for reliable HVAC service.
Our HVAC services include:
Repair
Replacement
Installation
Inspections
Tune-ups
Maintenance
Trust the Experts at BREMS
Learn more about the ways that our industry-leading services can improve your quality of life and save you money in the process.